More than just weight loss or purely physical fitness gains, members working out at Orangetheory gain strength that helps them get more out of life.
We've witnessed incredible physical transformations at Orangetheory studios worldwide. With a different full-body workout every day, each 60-minute session is scientifically designed for real results. But weight loss is just an added benefit of burning at the hottest workout in the nation.
Our amazing Fit Fam focuses on building endurance, strength, and power so we can transform our lives from the inside out and live better lives every day.
As we get ready to open our studio in Tuckahoe, NY, which of the following types of Orangetheory strength do you look forward to gaining once you join the Orange Nation?
Fearless
Without batting an eye, Orangetheory members are up for the challenge—whatever it is!
When we start burning at Orangetheory Tuckahoe, you'll jump right into our fitness challenges and grin instead of grimace when faced with a high rep count, heavy weights, long row, or fast pace.
And your fearlessness will extend far beyond our walls. After starting Orangetheory, more than ever before you'll be the type of person who dives right into the deep water, takes on a challenging hike, tries new things, and travels to new places.
Orangetheory members slow down for nothing!
Confident
Soon you'll be in an atmosphere where you get to prove to yourself you're capable of every challenging workout. You'll be showing yourself there's nothing you can't do. Insecurities will be a thing of the past.
Orangetheory members aren't afraid of failure; they keep on trying until they make it happen. Orangetheory members aren't worried about what people think about them; they know that they're incredible people, inside and out.
Orangetheory means gaining confidence in every aspect of your life, from the daily 9-to-5 workday grind to your social life and relationships. You can be whoever and whatever you want to be, and you're perfectly capable of achieving each and every goal you set for yourself.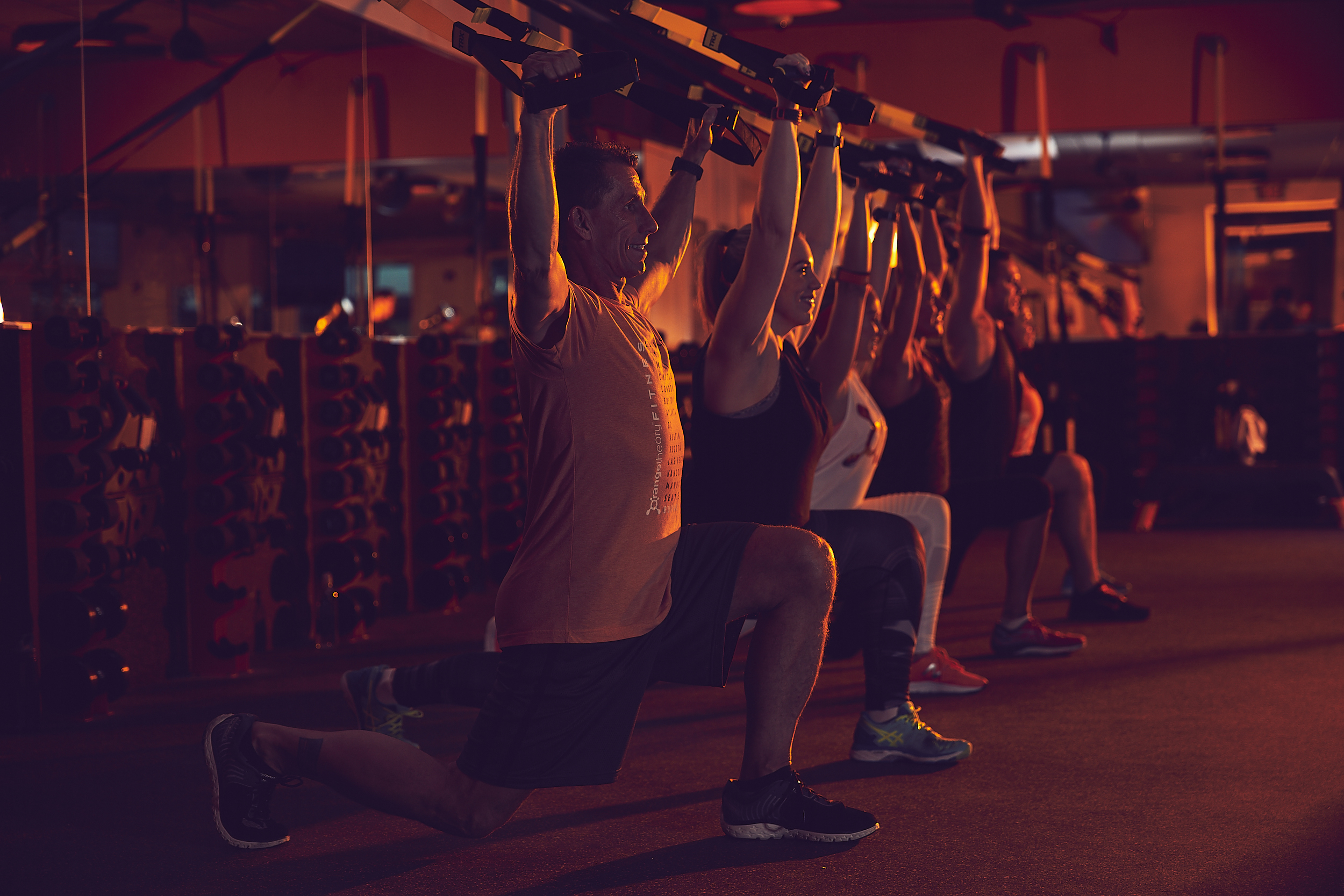 Independent
There's something seriously rewarding about the way we push ourselves at Orangetheory. We're each at our own level, going at our own pace, and challenging ourselves to go a little faster, a little longer, a little stronger each day. Even though it's a group workout full of friendly faces and coaches cheering us along, we're each on your own journey, competing against our own limits, and achieving our own amazing accomplishments.
The independence you'll gain from Orangetheory won't mean you're alone. Orangetheory independence means you can hold your own. When you go hiking or paddle boarding with friends, you can carry your own gear. On a group trip, you help hoist luggage up steps. And it's more than just physical independence. Mentally, you'll become an independent thinker who's strong enough to march to your own beat.
Unbreakable
Life is tough sometimes. From silly arguments and drama to endless work and chores to something more serious like an illness in the family, you've got a lot on your plate.
It doesn't get easier, but you will get stronger. Despite everything you have going on in your day-to-day, Orangetheory strength will help you keep your game face on. The person others see when they look at an Orangetheory member is someone who is in control and on top of it all.
Just like there's no weight too heavy and no challenge too difficult, no obstacle life sends you will stand in your way for long.
You've got this.
Rich in Friendship
We're stronger together. You're about to have a vast support system backing you as a member of Orangetheory Tuckahoe.
Members and coaches will be there for you every step of the way—and, even more, they'll become friends. Beyond our own studio in Tuckahoe, NY, you'll be part of a whole network—more than the Orange Nation, we're living in an Orange World.
Wherever life takes you, your friends at Orangetheory will always have your back.
Growing Strength
Whether our members have just started their fitness journey or are a seasoned Orangetheory pro, they always have their eye on the prize. Every tomorrow brings new strength and new opportunities to conquer, and there is no limit to what they can achieve in every aspect of their life.
As you start burning, you'll start taking on more, accomplishing more, and getting more out of life.
Ready for Orangetheory Strength?
If you haven't signed up yet, now is the perfect time to commit to a healthier, happier, stronger, you. Sign up now to become one of our founding members of Orangetheory Tuckahoe and to lock in exclusive membership rates that won't be this low again.
We can't wait for you to experience how Orangetheory strength feels on you.